About Us
The school opened its doors for the first time in September 1986 to welcome its first pupils. Hillside's educational and social atmosphere stems from a dedicated and committed staff, they welcome diversity of the children's experience, and positive attitudes to all aspects of school life. We are a two-form entry school with 464 pupils on roll. We have an amazing team of 65 staff members also. At Hillside we have the privilege of running a Breakfast Club every morning from 7:50am - 8:50am in our Small Hall. See the school office for booking a place.
Our Vision
Is to provide every child with the learning experiences that give them the self-belief, diversity of skills and inspiration to follow their dreams.
Our School Motto
'Inspiring the future'
Our Mission Statement / Aims:
Is to put outstanding education and lifelong learning at the heart of everything we do, by:
Delivering innovative and inspiring teaching and learning through an enriched curriculum.

Making our learning experiences fun and enjoyable.

Working in partnership with pupils, teachers, parents and our culturally diverse community to ensure that all members have a voice.

Providing a safe, happy and caring environment that is stimulating and engaging, which enables every child to achieve their potential.

Promoting personal responsibility and growth.
Our Values
At Hillside, we value: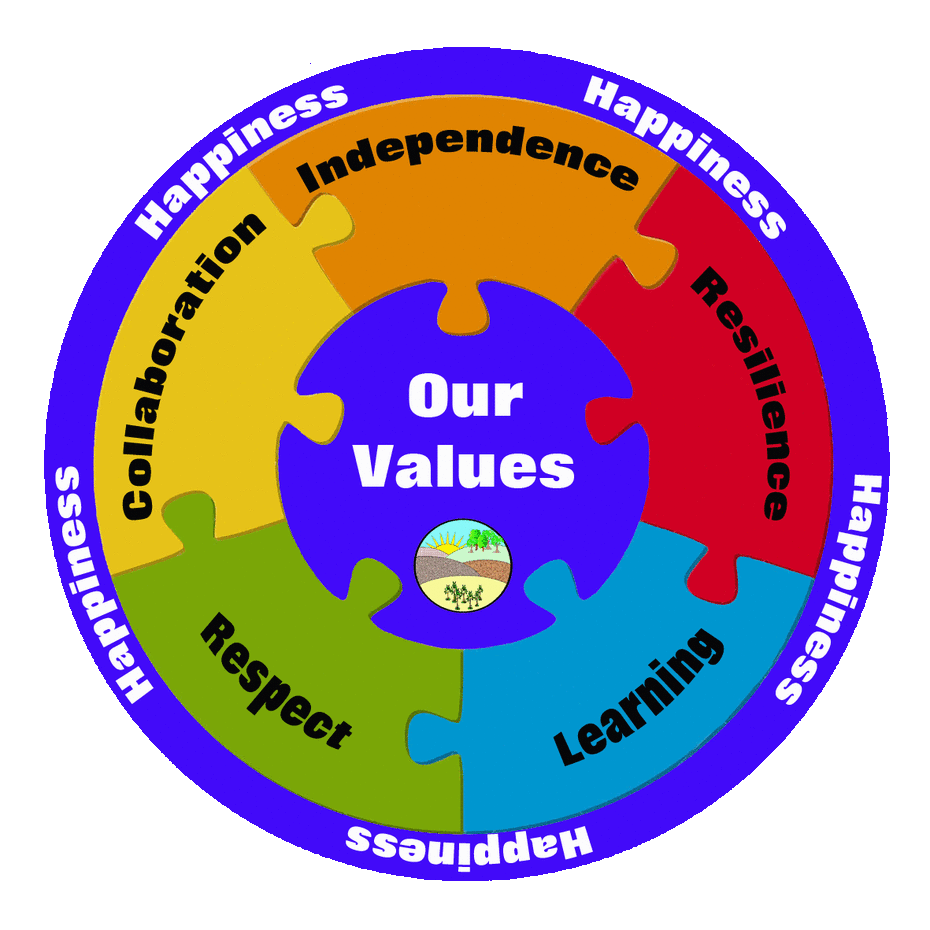 School Times




Foundation Stage 1

morning children 8:40 - 11:40 and afternoon children 12:20 - 3:20


Foundation Stage 2

8:50 – 3:20 but are welcome from 8:40 onwards


Phase 1 (Years 1, 2 and 3)

8:50 – 3:15pm


Phase 2 (Years 4, 5, 6)

8:50 – 3:10pm
The doors open at 8.45 am and parents are responsible for the safety of their children until that time. Class doors close by 8:55am. Any children arriving after this time will need to sign in at the Front Office where they will be marked late.
At the end of the afternoon the teachers will deliver the children to the appropriate outside door. If you need more than a few words with your child's teacher, please make an appointment to speak with them more fully after school when they are not responsible for a full class of children.
Healthy Snacks


Children are allowed to bring in Healthy snacks for break times. This could include fruit, health bars, crackers or breadsticks etc. Crisps and chocolate bars are not permitted. We feel that it is extremely important for our children to have access to water all through the day which is why we have water fountains outside in the playground.
Research suggests that water and keeping children hydrated impacts on learning skills in a really positive way. Please ensure your child brings a water bottle each
day to keep in the classroom. Other flavoured drinks maybe consumed at lunch times.
Forest Schools
We are very fortunate to have a fantastic orchard as one of our learning environments. Click here to see what we do.
House System
Click here to see their names
School Uniform


We aim to have a uniform that is smart, functional, hard-wearing, easy to obtain and maintain. We also hope it will aid the organisation of this large primary school.
 Grey or black pinafore dress/skirt/trousers
 White shirt
 School jumper/cardigan or similar
 Grey black tights/white or grey socks
 Black school shoes
 Blue checked dresses can be worn in the Summer Term only.
 Ties to be worn by children in Years 5 & 6.
Boys Uniform


 Grey or black trousers/shorts
 White shirt
 School jumper or similar
 Grey or black socks
 Black school shoes


PE Kit


 Royal blue shorts
 House colour t-shirts
 Plimsolls or trainers
 Tracksuits for games outside in the winter
No jewellery except for stud earrings, watches and medical items.
Every item of clothing and possession brought to school should be clearly marked with the child's name.
School uniform (including PE kit) can be obtained from the school upon completion of an order form.
Uniform sales are held during the Easter and Summer Holidays.